ICE Tampa Office Celebrates Recent Wins
October 27, 2023
The ICE Tampa Office hosted an office luncheon to celebrate recent wins from the Florida Local Government Team.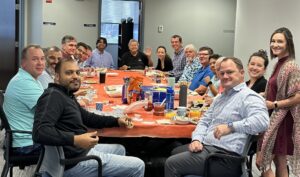 Huge shoutout to the Tampa Office for their continued hard work and dedication! Congratulations to Mohan Atluri, Jerry Dabkowski, Michael Schofield, Mike Allen, Chris Brimo, Shawn Pulley, Kristin Mamula, Jessica Gutierrez Saenz, and Racheal Bennett for the following projects and wins:
Sumter County:
ATMS/ITS Multi-Year Contract
BOCC blessing on 747 Preliminary Engineering Study
Final Submittal on The Villages Cul-de-sac
Vulnerability Study
Celebrating 1-Year Extension
March 2023 Win:
City of Hampton – ICE was selected for a $600,000 CDBG grant as the engineer of choice for city water improvements (15% fee).
July 2023 Win:
City of Starke – ICE was selected for a 3-year contract with extensions for the following services:
CEI Services
Engineering Services
Planning
Architecture
GIS Modeling & Mapping
Grant Applications
Additional Services As Needed
The City of Starke received a $10 Million grant for these services.
Other Notable Successes:
City of Holmes Beach – Gulf Drive; Roadway Design Improvements Project
City of Gainesville – MLK Sports Complex; Major Traffic Study
The Villages – Completion of Four Cul-de-sac Designs
Pinellas Park – Pickleball Court, Final Report Approved
Okaloosa County – College Boulevard Final Concept
City of Hampton – Vulnerability Study
Information provided by Racheal Bennett and Kristin Mamula.