ICE Ranks #233 on ENR List of Top 500 Design Firms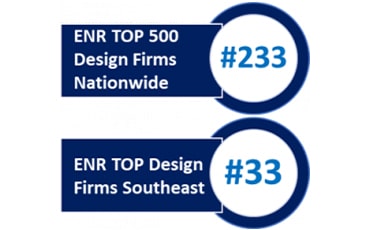 ICE Ranks #233 on ENR List of Top 500 Design Firms
May 7, 2021
Infrastructure Consulting & Engineering, PLLC (ICE), a leading transportation engineering and construction management and inspection firm, has ranked #233 on the Engineering News-Record list of Top 500 Design Firms. The firm jumped 19 spots despite the coronavirus pandemic. This is the fifth consecutive year ICE has ranked in the top 500 and the third in the top 300. ICE also ranked among the top Design Firms in the Southeast as #33 and #2 in their founding state of South Carolina.
"We thank our clients for trusting us to help them achieve their goals in 2020, and for their continued confidence in our professionals as we work closely together to navigate the uncertainty of the coronavirus pandemic and adapt to a new normal." Said company President and CEO, Elham Farzam. "This recognition is a testament to the resilience, talent and commitment of our staff, who align with our customers, teaming partners and one another to design projects that improve our infrastructure, environment, and communities."
ICE has grown steadily in recent years with new employees, new offices opening and offering new disciplines to further enhance the firm's ability to provide full-service transportation consulting and design services. Consistent growth on the Engineering News-Record annual ranking for Top 500 Design Firms and Top 100 Design Firms in the Southeast is a testament to the company's commitment to consistently deliver innovative and efficient engineering solutions with personal client service that exceed expectations for accessibility and responsiveness.