ICE Wins ACEC-SC Engineering Excellence Award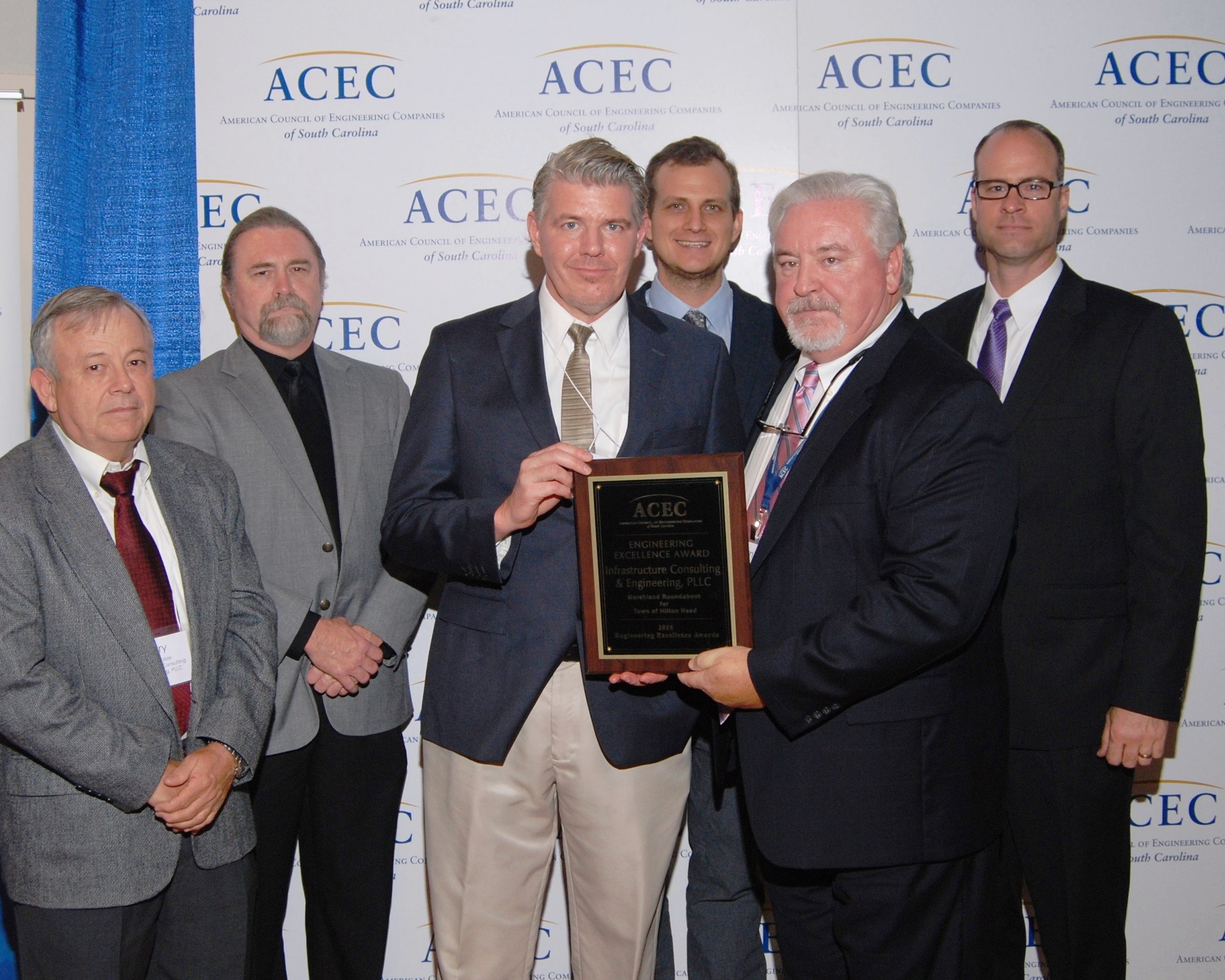 ACEC-SC hosted the Engineering Excellence Gala on February 2, 2016 at the Columbia Museum of Art. ICE was recognized as an Engineering Excellence Award winner in the "Small Project, $500,000 – $2 Million" category for the Marshland Roundabout Project on Hilton Head Island which is owned by the Town of Hilton Head. Additionally, ICE was successful in being selected as a ACEC finalist and was invited to submit to National for the National Engineering Excellence Awards. Congratulations to Marc LeMin, PE (Project Manager), Gary Stroble, RLS (Survey Manager), Stephen McCracken, EIT (Designer), and Tim Sharpe (Designer) who were instrumental in successfully delivering this project to the Town of Hilton Head.
Project Executive Summary: The T-intersection at Marshland Road and Mathews Drive on Hilton Head Island was dangerous to motorist and accidents often occurred. It was not uncommon for more than a dozen cars to line up on Marshland Road waiting to make the dangerous left turn onto Mathews Drive. Infrastructure Consulting & Engineering, PLLC (ICE) was challenged to develop the engineering plans to meet the concept of adding a roundabout in order to increase safety and traffic flow while maintaining the aesthetic characteristics of Hilton Head Island. ICE designed an efficient system tying into the sloped and curved section of Mathews Drive while minimizing the impacts to the surrounding area including large oak trees, an outfall to a tributary leading to Broad Creek, and a section of wetlands. Additionally, ICE provided designs to reduce the access on Mathews from two to one lane to allow for the construction of a single-lane roundabout with a slip lane from Marshland Road.